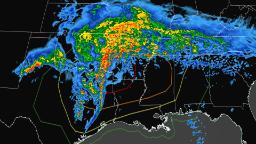 CNN
 — 

An outbreak of intense severe weather packing damaging winds and strong tornadoes looms over the Southern Plains and South on Thursday and into Friday.
The storm system that brought several feet of snow to parts of California will move eastward Wednesday eventually triggering the severe outbreak expected on Thursday.
Eastern Texas, northern Louisiana and southwestern Arkansas – also referred to as the ArkLaTex region – face a threat of damaging winds up to 80 mph, up to baseball size hail, and tornadoes, some possibly greater than EF-2 strength, on Thursday.
Tornadoes of this magnitude bring winds of at least 111 mph and can destroy mobile homes, uproot trees and tear roofs from homes.
The Storm Prediction Center has put the ArkLaTex region under a Level 4 of 5 threat for severe storms on Thursday, covering over two million people including Shreveport, Louisiana, and Tyler, Texas. This region faces the greatest risk of widespread damaging wind gusts and strong tornadoes.
The entire severe threat area stretches from central Texas to Alabama on Thursday, encompassing 45 million people. Dallas, Memphis, Little Rock and Jackson, Mississippi, are under a Level 3 of 5 severe storm risk, while Houston and Austin, Texas, are under a Level 2 of 5 threat.
Thursday's storms "won't be just another 'run of the mill' severe weather threat," meteorologists at the weather service in Dallas warned, adding that those living where the threat is strongest should keep a close eye on alerts headed their way.
Thunderstorms will begin to pop up in central and eastern Texas Thursday morning that will strengthen as they meet with unusually warm air to the east. Temperatures have been near record high levels for this time of year across the Southeast this week and this warm air will add fuel for the storms.
Cities in Louisiana, like Baton Rouge, are set to tie or break temperature records just before the onset of severe weather. San Antonio and Houston are also close to record-breaking temperatures and could see numbers as high as 88°F and 86°F respectively.
These morning storms are more likely to be strong supercell thunderstorms as a result, which carry the largest risk for the spin-up of violent tornadoes and large hail.
As the cold front associated with the threat pushes eastward, a squall line, a strong line of thunderstorms, is predicted to develop Thursday afternoon, which will increase the threat of widespread damaging winds.
This is set to be a long-duration storm that will maintain its strength as it treks eastward into Louisiana and Arkansas Thursday night.
The severe storm threat moves into central Mississippi and western Tennessee overnight into Friday morning, maintaining a risk of damaging winds up to 70 mph, quarter-size hail, and tornadoes.
In addition to severe threats, flash flooding will also be of concern. A flood watch is in place for over seven million people in northern Arkansas, western Tennessee, and northern Mississippi through Friday morning.
Heavy rainfall of 3 to 6 inches is expected through Thursday night with the potential for localized higher amounts. This will lead to multiple localized flash flooding events.
Severe storms will continue eastward on Friday, threatening over 40 million people across the Southeast into the Ohio Valley. A Level 2 of 5 severe threat covers much of this area and includes Atlanta, Charlotte and Nashville.
The line of severe thunderstorms will bring the possibility of isolated tornadoes, hail and damaging winds stretching from middle Tennessee into central Alabama in the morning Friday until noon.
In the afternoon Friday, eastern Kentucky and the western Carolinas will be faced with the possibility of small hail, damaging wind gusts up to 50 mph, and isolated tornadoes. The threat is expected to dissipate late Friday night.