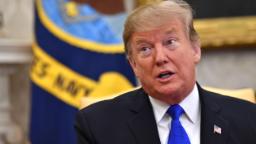 "Well, in my own mind, I've already made that decision, so nothing factors in anymore," Trump said about a 2024 White House bid. "In my own mind, I've already made that decision."
"'I would say my big decision will be whether I go before or after,' he said. 'You understand what that means?' His tone was conspiratorial. Was he referring to the midterm elections? He repeated after me: 'Midterms.' Suddenly, he relaxed, as though my speaking the word had somehow set it free for discussion. 'Do I go before or after? That will be my big decision,' he said."
Right. So I guess the guesswork is pretty much over then.
"[H]is desire to expedite a campaign announcement — ditching previous plans to wait until after the November midterm elections — grew even deeper after former White House aide Cassidy Hutchinson raised serious questions in a televised congressional hearing this week about Trump's behavior during the final months of his first term, according to sources familiar with the matter."
So, like, yeah. If it walks like a duck and quacks like a duck, it's, um, extremely likely to be a duck.
Especially when you consider this fundamental fact about Trump: He craves attention, buzz and relevance. Why would he willingly pass up all three — which would be the obvious byproducts of another presidential candidacy? Answer: He wouldn't.
The operative question then about the 2024 Republican race needs to change from "Is Trump going to run?" to "Who is going to run against Trump?"
Others such as former Vice President Mike Pence, former UN Ambassador Nikki Haley, former New Jersey Gov. Chris Christie, Maryland Gov. Larry Hogan and Arkansas Sen. Tom Cotton are also mentioned — although it's not clear how Trump's official announcement, whenever it comes, would influence their decisions.
The Point: Trump is running. He's literally saying it out loud now. So, we need to start treating him like a presidential candidate. Again.