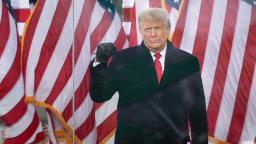 Trump's unwillingness to place blame on the rioters was made clear, again, on Monday in a
new video
released by Democratic Rep. Elaine Luria of Virginia, who serves on the House select committee investigating January 6.
A copy of the speech Trump gave on January 7 — the day after the insurrection — was shown on screen, with edits that Ivanka Trump identified as coming from her father.
Among the lines Trump crossed out was this one: "I am directing the Department of Justice to ensure all lawbreakers are prosecuted to the fullest extent of the law. We must send a clear message not with mercy but with JUSTICE. Legal consequences must be swift and firm."
He also got rid of these lines: "I want to be very clear you do not represent me. You do not represent our movement." And instead of saying, "if you broke the law, you belong in jail," Trump changed it to, "if you broke the law, you will pay."
Obviously, Trump's edits take some significant sting away from his remarks on January 7. The elimination — in its entirety — of the line about using the DOJ to investigate and prosecute those who broke the law on January 6 suggests that Trump did not feel as though what was happening was a matter for the department. That impression is furthered by Trump's decision to take out a reference to jail time for those involved in the riot — changing it to the less specific "you will pay."
Trump's edits — and what he either failed or refused to say — has been a running theme of the January 6 investigation. Consider:
* In those
remarks he gave January 7
, Trump made other edits. "I don't want to say the election's over, I just want to say 'Congress has certified the results' without saying the election's over, okay?" Trump said at one point. At another he said, "If you broke the law … can't say that."
* On January 6, Trump resisted adding a mention of peace to a 2:38 p.m. Eastern tweet in which he expressed support for law enforcement. Former deputy press secretary Sarah Matthews testified that it was only when Ivanka Trump
suggested to add
the words "stay peaceful" that the then-President acquiesced.
* On January 6, a
script of Trump's remarks
— delivered via a Twitter video posted shortly after 4 p.m. — included these lines: "I urge all my supporters to do exactly as 99.9% of them have already been doing — express their passions and opinions peacefully. My supporters have a right to have their voices heard but make no mistake — NO ONE should be using violence or threats of violence to express themselves. Especially at the US Capitol. Let's respect our institutions. Let's all do better. I am asking you to leave the Capitol Hill region NOW and go home in a peaceful way." But Trump's actual remarks deviated wildly from that message. At no point did he directly condemn the violence happening at the Capitol. Instead, he told the rioters that "we love you" and "you're very special," while continuing to push the false idea that election had been stolen.
The message from these omissions is obvious to anyone paying attention: Trump did not want to suggest that those who rioted at the Capitol would be subject to criminal penalties, including jail time. (What's remarkable is that throughout his presidency, Trump pushed the Justice Department to investigate his political enemies. But when it came those who supported him, Trump was unwilling to call on DOJ to get involved.) He was also resistant to separating out those who had stormed the Capitol that day from the broader group who attended the "Stop the Steal" rally.
Seen through that lens, what Trump was told to say — and his refusal to do so — provides a very clear picture of a president who, even amid an insurrection at the US Capitol, didn't seem to, well, get it.
Yes, Trump addressed the nation on January 6 and January 7. But the words he failed to use speak volumes about his intentions. And they are damning.