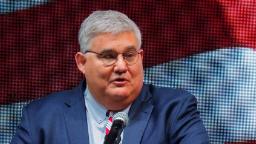 Fulton County District Attorney Fani Willis' letter Friday indicates a shift from the Georgia prosecutors, as they previously reassured Shafer and other fake electors for Trump that they were considered witnesses, rather than subjects or targets, in the investigation — a notable distinction that suggests the Atlanta-area district attorney did not view their actions as criminal at the time, two sources told CNN.
Shafer, who has faced inquiries from federal investigators, Georgia prosecutors and the House select committee investigating the January 6, 2021, attack on the US Capitol, acted as a pro-Trump elector in Georgia. He also helped organize the fake slate of electors in the Peach State, which Trump lost by nearly 12,000 votes.
Willis' office appeared to be trying to determine whether the pro-Trump electors in Georgia had any knowledge that their actions may have been a component of a broader and potentially illegal plot to pressure election officials and overturn Joe Biden's victory, a source previously told CNN.
The letter was first reported by Yahoo News, which also reported other Georgia officials received similar target letters.
Georgia state senator seeks to have Willis disqualified
Also Friday, Georgia state Sen. Burt Jones asked a court to disqualify Willis from any prosecution related to him, arguing she has a conflict of interest and a political bias in his case.
Jones, a Republican, is currently running for lieutenant governor in Georgia. Willis hosted a campaign fundraiser for Jones' Democratic opponent Charlie Bailey last month.
"This support may otherwise not have been an issue if she and her office had not simultaneously initiated special purpose grand jury proceedings against Mr. Bailey's sole opponent, Mr. Jones," attorneys for Jones wrote in a court filing Friday. "This is a blatant effort to sway the outcome of the election in Mr. Bailey's favor. Therefore, DA Fani Willis should be disqualified."
Jones, who was involved in the fake elector scheme in Georgia and signed on as a pro-Trump elector, has emerged as a target in Willis' investigation, according to a source familiar with the situation and Friday's court filing.
If the judge does not disqualify Willis, Jones has asked that any report from the special grand jury be sealed until after the November 8 election, "to prevent any improper and undue influence therein."
Bailey has hammered Jones during the campaign for his involvement in the fake electors plot. Bailey's campaign spokesman, Jake Orvis, called Jones' new court filing an attempt "to distract from the fact he attempted to overthrow the United States Government."
Stephen Lawson, a spokesman for Jones' campaign, said, "This is clearly a politically motivated attack from the same District Attorney who just weeks ago hosted a political fundraiser for Burt's opponent. Burt is more than happy to perform his civic duty and answer questions — but not from a prosecutor with such blatant conflicts of interest."
Willis' office dismissed the political bias claims in a statement Friday.
"The motion is without merit," Deputy District Attorney Jeff DiSantis said. "The District Attorney supports Charlie Bailey because she worked with him as a prosecutor and knows he will support law enforcement as Lieutenant Governor. Her support for Mr. Bailey has nothing to do with his opponent, nor does her fulfillment of her oath of office to investigate and prosecute crimes occurring in Fulton County have anything to do with anyone else's campaign for elected office."
DiSantis added: "The District Attorney will respond to Mr. Jones' motion in court."
This story has been updated with additional details.
CNN's Jason Morris and Shawna Mizelle contributed to this report.