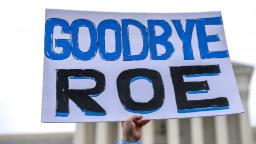 Two newspapers owned by Gannett, one in Indiana and one in Ohio, have humanized the new American reality about abortion now that Roe v. Wade has been reversed. And in doing so, they have highlighted the inhumanity of some partisan punditry.
On July 1, the Indianapolis Star
reported
that a 10-year-old girl in Ohio was pregnant, and because "the Buckeye state had outlawed any abortion after six weeks," the girl was brought to Indiana for an abortion. The source was Dr. Caitlin Bernard, an obstetrician-gynecologist in Indianapolis, who said she had conferred with a child abuse doctor in Ohio.
No further details about the girl or the alleged rapist were obtainable, even though some news outlets tried. In recent days, after President Biden
cited
the news report and denounced Ohio's abortion ban, many conservative media outlets and Republican office-holders poured skepticism on the case, and some personalities flatly
said
they did
not believe
the 10-year-old existed. Rep. Jim Jordan tweeted: "Another lie. Anyone surprised?"
You know what's coming next. On Wednesday, the Columbus Dispatch
reported
that a man has been charged in the case. Police
say
Gerson Fuentes, 27, "confessed to raping the child on at least two occasions."
The doubters and deniers
There are so many untold stories
That's a report almost every single day, in just one metro area, and certainly a partial count — underscoring a vast number of untold stories. The Dispatch story also notes that "the ability of Ohio residents to seek abortion services in Indiana could soon be curtailed," since Republican lawmakers in the state are expected to enact new restrictions later this summer.
A 10 year old is being treated "as a political chess piece"
Editorial writers and TV talking heads will move on tomorrow, but the people at the center of this case will be changed forever.
Correction: Sarah McCammon's name was misspelled in a previous version of this story.