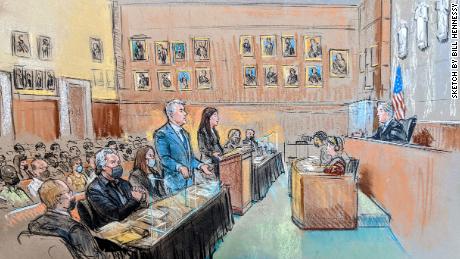 Proceedings began Monday with jury selection at the federal courthouse in Washington, DC.
The polarizing long-time Trump ally has always been
at the top
of the January 6 witness list for House investigators. But Justice Department prosecutors say the trial is intended to punish Bannon for noncompliance with the subpoenas, rather than coerce him into sharing information.
The case is a major test of what leverage Congress has when a witness evades a House subpoena. Bannon's is the first of two similar House select committee subpoena cases to head to trial; a contempt case against former White House trade adviser
Peter Navarro
is still in its early stages.
Bannon's trial also carries special relevance for the House panel as it continues to negotiate bringing in additional witnesses, and as it prepares for a major primetime hearing Thursday night intended to spotlight what committee members have called
former President Donald Trump's
"dereliction of duty" on January 6.
Jurors asked about House investigation
During the first portion of Monday's jury selection process, potential jurors have not been pressed about their general feelings about Bannon or Trump.
They are, however, being asked about their news consumption of the House investigation and about this case itself. Some have said they've consumed a little of the House hearings, if that.
Many of the potential jurors said they've heard minimally about Bannon's case, yet a large number of them have taken in at least some of the select committee public hearings. But awareness alone isn't enough for them to be tossed from the jury pool.
Among the jurors qualified so far, there is a man who works with Covid-19 testing, a woman retired from working for a union who's now writing a dissertation, and a self-described "recovering" lawyer who now works at the State Department.
The lawyer-turned-government-official told the judge she thought executive privilege might be part of the case, and that the case was about whether Bannon had to testify, or was protected.
It's not clear if Bannon's legal team will be able to make any arguments that even mention executive privilege to the jury. The judge, US District Judge Carl Nichols, allowed her to continue being a potential juror because her knowledge of the case was limited.
Bannon's team has repeatedly argued that pre-trial publicity, especially with the congressional hearings, should prompt his case at least to be delayed.
But many potential jurors say they haven't formed an opinion or know little of the details, and they aren't being quizzed extensively about Bannon's political history.
One potential juror said she had a "high-level awareness" of the select committee proceedings and the case, and heard not everyone had responded to subpoenas they received — even if they should have. But "the whole story we haven't heard yet," the legal aid worker told the judge. "I'm presuming you'll have to explain the law to us."
She remained in the jury pool.
Eight potential jurors had been deemed qualified by the proceedings mid-day lunch break. So far, the judge and lawyers have interviewed twice as many. Twenty-two qualified jurors are ultimately needed for the trial to begin.
One juror was tossed from the pool after he told the judge he watched all the select committee hearings, then criticized Republicans who say the election was stolen, and, looking toward Bannon, said, "I do believe he's guilty."
Trial expected to go quickly
Prosecutors pledge that their case against Bannon will be presented succinctly, over just a few days, with only two or three prosecution witnesses. That list includes House committee investigators.
Both charges he faces are misdemeanors. But if he is found guilty, each carries a mandatory minimum of 30 days in jail.
"In short, Mr. Bannon appears to have played a multi-faceted role in the events of January 6th, and the American people are entitled to hear his first-hand testimony regarding his actions," the House committee said in its report putting forward a contempt resolution against Bannon.
Ahead of Bannon's trial, the House committee has featured details about him in some of its public presentations. At a hearing last Tuesday, the committee revealed White House phone logs indicating Bannon and Trump spoke twice on January 5, 2021, including once before Bannon made his predictions about the next day on the podcast.
The committee has another hearing planned for primetime Thursday evening. Depending on the pace of the proceedings at DC's federal courthouse, and the length of his defense presentation and jury deliberations, Bannon's trial could be over by then.
This story has been updated with additional details.