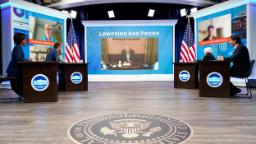 "I had two full nights of sleep all the way through," he told reporters, who posed questions to him virtually after he participated in an event by video conference from the White House residence.
"Matter of fact, my dog had to wake me up this morning," he went on to explain, providing a glimpse into his Covid isolation. "My wife's not here, she usually takes him out in the morning while I'm upstairs working out, so I felt this nuzzle of my dog's nose against my chest about five minutes to seven."
"I'm feeling good — my voice is still raspy," he continued.
Earlier Monday, Biden's physician said his symptoms had "almost completely resolved" after five days with the illness.
"When questioned, at this point, he only notes some residual nasal congestion and minimal hoarseness," Dr. Kevin O'Connor wrote in a letter disclosing his status.
That was an improvement from the weekend, when O'Connor said Biden suffered from a sore throat, body aches and a loose cough. Seen participating in a virtual meeting on Friday, Biden cleared his throat several times and had a marked rasp to his voice.
The rasp hadn't completely faded Monday, though Biden assured reporters that was "par for the course."
The President said that he's been participating in a battery of tests every evening, checking "everything, from the temperature to the oxygen in my in my blood, to my pulse."
"So far, everything's good, I mean, everything's on the button," he said.
O'Connor said in his letter Biden's pulse, respiratory rate and temperature were normal — as they have remained throughout the course of his illness, according to his doctor — and that
his oxygen saturation was
"excellent" on room air. He has no shortness of breath, O'Connor said.
Biden tested positive for Covid last Thursday, and has been weathering the illness from the White House residence. He canceled plans to travel to Florida this week, but will participate in virtual events Monday.
Speaking to reporters, the President took care to note he's been "keeping a full schedule" while isolating, including "four major events today."
"I'm not keeping the same hours, but you know, I'm meeting all my requirements that have come before me, and we're making decisions on a whole range of other topics as well," he said.
Inside his residence, Biden has been speaking to advisers by telephone and holding video meetings. But his wife, who tested negative for Covid again on Monday, has been away at their home in Delaware and staff inside the building has been cut down to limit exposure.
Biden, 79, is "specifically conscientious" to protecting residence staff, White House officials and Secret Service personnel from the virus, which has been determined to be the highly transmissible BA.5 variant, O'Connor wrote in his letter. BA.5 is now the predominant strain of the virus in the United States.
Another physician, Covid response coordinator Dr. Ashish Jha, updated reporters on Biden's condition later Monday. Jha has not been treating the President directly, but has spoken to him over the course of his illness.
None of the individuals deemed a close contact with Biden have tested positive for Covid-19, Jha told reporters.
"There were …17 people who were identified as potential close contacts — they've all, of course, been notified. They're all being — they're all following CDC guidelines, and as of earlier today, none of those, none of those 17 people had tested positive," Jha said.
O'Connor has yet to directly speak with reporters about the President's condition and the White House has not provided specifics on Biden's illness beyond O'Connor's daily memos.
The White House has sought to underscore that Biden's symptoms have been mild because he is vaccinated and boosted, and he began a course of the antiviral Paxlovid as soon as he tested positive. O'Connor said in his letter Biden had completed his fourth full day of Paxlovid on Sunday.
Vice President Kamala Harris, who was considered a close contact of Biden's last week, tested negative for Covid on Monday before traveling to Indiana for an event focused on abortion access.
This story has been updated with additional reporting and background.