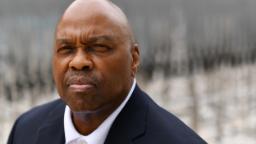 CNN
 — 

President Joe Biden's embattled pick to lead the Federal Aviation Administration is scheduled for his confirmation hearing before Congress on Wednesday morning amid a series of challenges for the agency.
Phil Washington is expected to get grilled by senators on issues that have emerged since he was nominated last summer and explain why he's qualified to lead an agency that urgently needs to address a slew of complex challenges.
The hearing for Washington, whose lack of aviation experience and legal entanglements have raised concerns on Capitol Hill, comes after a year of the FAA operating without a permanent administrator. In that time, the agency has contended with several problems that have plagued travelers and the airline industry, such as recent near-collisions involving airliners, crucial staffing shortages and malfunctions of aging technology that have cause major air travel disruption.
Washington, whose nomination was first announced by Biden nearly eight months ago, will appear before the Senate Committee on Commerce, Science, and Transportation Wednesday at 10 a.m. ET.
Washington, the current CEO of the Denver International Airport, has held leadership roles at municipal transit organizations, including in Denver and Los Angeles, focused on bus and rail lines. He also led the Biden-Harris transition team for the Department of Transportation. Prior to his work in transportation, Washington served in the military for 24 years.
While Washington has worked in transportation-related positions since 2000, he had no experience in the aviation industry prior to joining the Denver airport in 2021. Since his nomination last summer, Washington has faced questions about his limited experience and, in September, was named in a search warrant issued as part of a political corruption investigation in Los Angeles.
According to a questionnaire given to the commerce committee ahead of Wednesday's hearing, Washington wrote that though his name was mentioned in the search warrant along with several other names, no search was ever executed on him or his property, nor was he questioned about the matter.
Washington's name was also recently mentioned in a federal lawsuit filed earlier this month. Benjamin Juarez, a former parking director at the Denver Airport, alleges that the city permitted intolerable working conditions and that he faced ongoing threats to his job, Axios reported. Juarez's attorney says he contacted Washington, who was leading the airport, at least twice for help and did not receive a response.
Texas Republican Sen. Ted Cruz, the ranking Republican on the committee, has asserted that Washington failed to disclose his naming in the lawsuit involving his work at the Denver airport. Republicans have also questioned whether Washington, an Army veteran who left the military in 2000 after more than 20 years of service, would be statutorily considered a civilian – a requirement in order to serve as the FAA chief.
If he's not considered a civilian, he would need a waiver from Congress permitting him to lead the agency. And Republicans do not support granting Washington a waiver.
A GOP aide on the Senate commerce committee told CNN that Cruz and Senate Republicans expect to raise all these issues – including his legal entanglements, his lack of experience, his management and his possible ineligibility – during Wednesday's hearing.
They'll also focus on Washington's efforts to incorporate diversity, equity, and inclusion in the vendor and contractor process as well as leading efforts "to make it harder and more expensive to drive in Los Angeles to force people to use mass transit instead in order to save mankind from climate change," according to the aide. Specifically, the aide referenced Washington's work to pursue a policy which charges drivers for using congested roadways during peak hours.
Senate Majority Leader Chuck Schumer said in January that he would push to confirm Washington.
"There is no doubt about it: it's time to clear the runway for President Biden's choice for FAA administrator, Phil Washington. With recent events, including airline troubles and last week's tech problem, this agency needs a leader confirmed by the Senate immediately," Schumer said in a statement following a computer system failure that triggered the delay of more than 12,000 flights. "I intend to break this logjam, work to hold a hearing for Mr. Washington, where he can detail his experience and answer questions and then work towards a speedy Senate confirmation."
The FAA is a sprawling and complex safety, regulatory and operational agency, tasked with regulatory oversight of all civilian aviation in the US.
It's been without a permanent administrator for about a year, when the Trump-nominated Stephen Dickson stepped down midway through his five-year term. Billy Nolen, the agency's top safety official, was named acting director in April.
The agency has a professed focus on safety, but agency leadership is ultimately responsible for steering its focus as its mission gets wider – with responsibilities expanding to include establishing the federal approach to private space launches and regulating drones – even as longstanding aspects of the aviation industry continue to grapple with major challenges.
A failure of the 30-year-old NOTAM, or Notice to Air Missions, system led to the first nationwide airplane departure grounding since the 9/11 attacks, showcasing just one way aging industry technology is being stretched beyond its limits by increased volume. Now, the FAA is planning to dramatically accelerate replacing the safety system.
Another FAA computer system failed earlier this year when it was overloaded, leading to delays in Florida. And the agency has struggled to modernize parts of air traffic control, with a 2021 Transportation Department Office of Inspection General report citing difficulties integrating the FAA's multi-billion dollar Next Generation Air Transportation System project due to extended delays.
There have been recent near-collisions on US runways, prompting federal safety investigators to open multiple inquiries. Air traffic control is staffed at the lowest level in decades, according to industry experts. And key roles at US airlines pared down amid the Covid-19 pandemic have not ramped up to meet current outsized travel demand.
In February, Nolen, the acting chief, ordered a sweeping review of the agency in the wake of recent aviation safety incidents. That review is expected to include a major safety meeting this month.
Another challenge is the FAA's evolution in how it handles oversight following the Boeing 737 MAX crashes.
Congress created reforms to the FAA's oversight in a late 2020 law but critics say the agency has been slow to implement changes.
A House Transportation committee investigation into 737 MAX certification found the model of oversight used then "creates inherent conflicts of interest that have jeopardized the safety of the flying public." The report also concluded senior FAA officials overrode decisions of FAA experts.
The agency is also still trying to resolve an 5G interference issue.
The next generation of cell phone technology can interfere with devices on aircraft that determine how far above the ground the aircraft is – the radar or radio altimeter.
FAA says it brought its concerns to the administration at the time when the Federal Communications Commission was developing plans to auction this portion of spectrum. But now the FAA is trying to play catch up while wireless carriers agreed to voluntarily pause rolling out their new tech around airports.