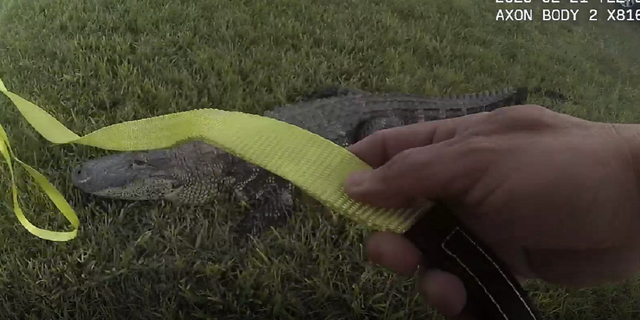 A Miami-Dade police officer has been caught on video wrangling an alligator in southern Florida. 
The nuisance alligator was brought under control by officer Manuel Orol in the Kendall area on Feb. 21, according to TMX News. 
"My concern was that the gator needed to be contained so that it wouldn't leave the area and possibly harm a child or someone walking their dog," Orol told WSVN after Florida Fish and Wildlife Conservation Commission officers arrived to take the reptile away. "They were saying, 'Wow, I can't believe you did that,' you know, 'Good job,' 'You're crazy.'" 
FLORIDA COMMUNITY WHERE 85-YEAR-OLD WOMAN DIED FROM ALLIGATOR ATTACK REMOVES 3 MORE: REPORT 
Bodycam footage shows Orol attempting multiple times to lasso the alligator with a strap. 
MOMENTS BEFORE FATAL ALLIGATOR ATTACK ON FLORIDA WOMAN CAUGHT ON VIDEO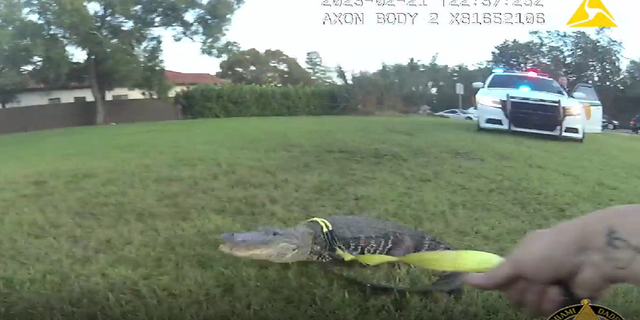 He eventually manages to guide the strap around the animal's neck, before it tries to escape. 
CLICK HERE TO GET THE FOX NEWS APP 
"I hope somebody got this on video," Orol is heard saying as he tied the strap to a police cruiser. "Alright, he ain't going nowhere." 
Wildlife officials estimated the gator to be around six to seven feet long and a local trapper took it away from the neighborhood, WSVN reports.