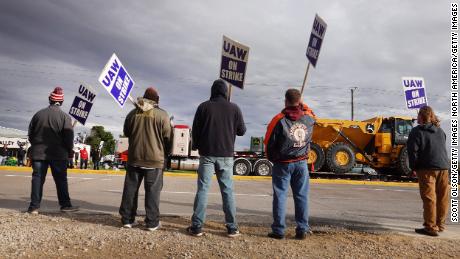 There are 2,500 members of the International Association of Machinists set to go on strike at 12:01 am central time on August 1. The plants are in St. Louis and St. Charles, Missouri, and Mascoutah, Illinois.
"Our members have spoken loudly and with one voice," said a statement from the union. "This company continues to make billions of dollars each year off the backs of our hardworking members. Boeing previously took away a pension from our members, and now the company is unwilling to adequately compensate our members' 401(k) plan. We will not allow this company to put our members' hard-earned retirements in jeopardy."
Boeing issued a statement saying it was "disappointed" with the vote to reject what it called a "strong, highly competitive offer." The company said the offer matched dollar-for-dollar up to 10% of worker's base and incentive pay towards 401(k) contributions. Boeing also offered to make a special contribution of 2% of workers' pay in 2023 and 2024, and to provide matches on student loan payments for workers' children.
"We are activating our contingency plan to support continuity of operations in the event of a strike," said the company's statement.
The proposed three-year agreement would have raised average wages by 7.2% in the first year of the contract in addition to giving workers a $1,000 cash bonus, according to a web site about the offer from the company. Workers would have received a 4% increase in the second year and a 3% raise in the third year, according to Boeing.
Boeing has posted deep losses each of the last three years, with net losses totaling $18.1 billion since the start of 2019. But those losses were primarily related to its commercial aircraft business, which has been buffeted by the
20-month grounding of the 737 Max
that started in March of 2019 following
two fatal crashes
, as well as a sharp drop in demand for air travel caused by the pandemic.
The company's defense, space and security business unit posted a $1.5 billion profit each of the last two years. But Boeing reported a
loss of $929 million
in its defense business in the first quarter this year after a number of special charges, including a $660 million charge related to its refurbishment of two 747 jets to be used as the new
Air Force Ones
.
A strike vote, and even a strike deadline, does not necessarily mean that there will be a work stoppage. But the number of walk outs has been on the rise in the last year, with workers taking a more hardline stance at the bargaining table in the face of
high inflation
, which is wiping out wage gains being offered by employers.
According to data from Cornell University, through the first five months of this year there were 153 US strikes involving about 73,500 workers, up from 78 strikes involving about 22,500 workers in the same period last year.
Rank-and-file workers at several companies have gone on strike even after their union leadership reached tentative offers with employers.
That was not the case in this vote: members voted on and rejected the company's best and final offer. Union leadership had recommended a no vote by membership, according to machinist spokesman DeLane Adams. The union did not give the exact vote total, but strike authorizations typically pass overwhelmingly.