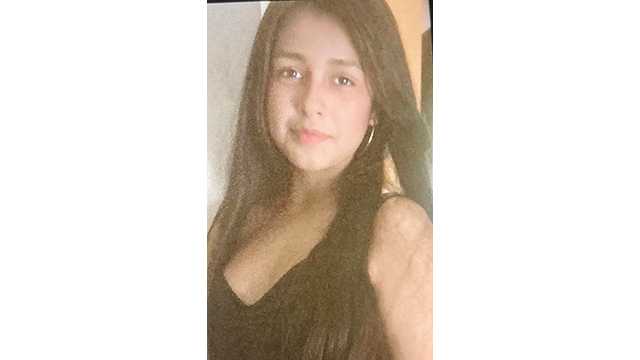 A 12-year-old girl died early Sunday morning after crashing a car, Howard County police said.County police said the car struck a tree around 2:08 a.m. Sunday on Broken Land Parkway near Cradlerock Way in the Columbia area.The driver, Josseline Molina-Rivas, was pronounced dead at the scene. She came to the United States from El Salvador five years ago. She was about to enter the sixth grade."She was a funny girl, so friendly, so smart. She was so cute," said Pablo Rivas, Josseline's uncle.Josseline's 36-year-old stepfather was a passenger in the car and was taken to Shock Trauma, where he remains in serious condition, police said. Police said it was unknown why they were out in the car at 2 a.m. or why the girl was driving."At this point, we do know that speed was a factor, our reconstructionists have determined that, but we're still investigating whether or not alcohol or drugs may have been a factor for either of the occupants," Howard County police spokeswoman Sherry Llewellyn said.Police said no charges have been filed and that a Spanish-speaking officer is waiting to interview the stepfather. The Family Crimes and Sexual Assault Division is also looking into the case. Police said investigators tracked down the registered owner of the car and determined that both the driver and passenger lived in the same apartment with numerous family members and residents.WBAL-TV 11 News spoke with Josseline's mother, who said she usually took the car keys to bed with her because her husband liked to take the car out at different times, but this particular night, she left them hanging in the hallway.Rivas said the family is in shock over what happened. "I still can't understand why that happened," Rivas said. "He always wanted to make her happy. I don't know why he gave her the car. I don't know why because police say she was driving. And, I always told her, 'I will never let you drive when I'm inside the car because you are a child, you're only 12 years old.'"Rivas said the family has very little money and they hope to raise $20,000 to pay for a funeral. A GoFundMe page has been set up for funeral expenses, on which the family released a statement: "Our beloved Josseline recently passed on the early morning of July 24 in a fatal car accident where she was pronounced dead on scene. Josseline was a wonderful daughter and niece who touched the lives of those around her. She leaves behind her mother and two uncles."Josseline was young and with a full life ahead of her. She was in the fifth grade. She enjoyed dancing and playing with her baby cousins."We are all devastated by Josseline's loss and were not prepared for the high cost of a funeral service. We want to give Josseline the memorial she deserves, to honor her memory and say our last goodbyes."I am currently asking for donations to help cover the cost of Josseline's funeral. We need to raise $20,000 by July 27 in order to be able to afford the funeral service. Any contributions would be greatly appreciated and help her mother to put, her only child, to rest."
COLUMBIA, Md. —
A 12-year-old girl died early Sunday morning after crashing a car, Howard County police said.
County police said the car struck a tree around 2:08 a.m. Sunday on Broken Land Parkway near Cradlerock Way in the Columbia area.
The driver, Josseline Molina-Rivas, was pronounced dead at the scene. She came to the United States from El Salvador five years ago. She was about to enter the sixth grade.
"She was a funny girl, so friendly, so smart. She was so cute," said Pablo Rivas, Josseline's uncle.
Josseline's 36-year-old stepfather was a passenger in the car and was taken to Shock Trauma, where he remains in serious condition, police said. Police said it was unknown why they were out in the car at 2 a.m. or why the girl was driving.
"At this point, we do know that speed was a factor, our reconstructionists have determined that, but we're still investigating whether or not alcohol or drugs may have been a factor for either of the occupants," Howard County police spokeswoman Sherry Llewellyn said.
Police said no charges have been filed and that a Spanish-speaking officer is waiting to interview the stepfather. The Family Crimes and Sexual Assault Division is also looking into the case.
Police said investigators tracked down the registered owner of the car and determined that both the driver and passenger lived in the same apartment with numerous family members and residents.
WBAL-TV 11 News spoke with Josseline's mother, who said she usually took the car keys to bed with her because her husband liked to take the car out at different times, but this particular night, she left them hanging in the hallway.
Rivas said the family is in shock over what happened.
"I still can't understand why that happened," Rivas said. "He always wanted to make her happy. I don't know why he gave her the car. I don't know why because police say she was driving. And, I always told her, 'I will never let you drive when I'm inside the car because you are a child, you're only 12 years old.'"
Rivas said the family has very little money and they hope to raise $20,000 to pay for a funeral.
A GoFundMe page has been set up for funeral expenses, on which the family released a statement: "Our beloved Josseline recently passed on the early morning of July 24 in a fatal car accident where she was pronounced dead on scene. Josseline was a wonderful daughter and niece who touched the lives of those around her. She leaves behind her mother and two uncles.
"Josseline was young and with a full life ahead of her. She was in the fifth grade. She enjoyed dancing and playing with her baby cousins.
"We are all devastated by Josseline's loss and were not prepared for the high cost of a funeral service. We want to give Josseline the memorial she deserves, to honor her memory and say our last goodbyes.
"I am currently asking for donations to help cover the cost of Josseline's funeral. We need to raise $20,000 by July 27 in order to be able to afford the funeral service. Any contributions would be greatly appreciated and help her mother to put, her only child, to rest."