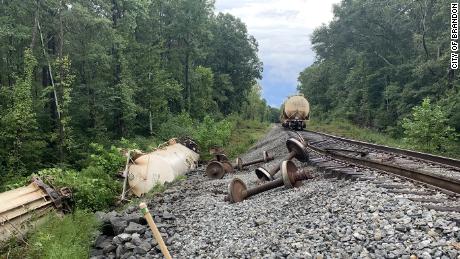 A total of 31 residents were evacuated from the Peach Tree Village assisted living facility in Brandon following excessive flooding, according to Mayor Butch Lee.
"Everybody's safe," John Bilbro told
CNN affiliate WAPT
during a live interview outside the facility. "We can replace the stuff, but the people are out, so that's a good thing," said Bilbro. It's unclear where the residents will be transported to, but Bilbro told the station he will now work to contact residents' family members.
"You won't go back in the facility anytime soon. So, we're going to be working to find permanent residence for these good people," Lee said.
Rankin County Constable Gary Windham told WAPT he's "seen water rise in this area before but not like that."
"The water came up, the residents were flooded in, so we got them out," said Windham. The residents had all moved to a "safe room" from where they were rescued, said the constable.
The mayor said everything went according to an emergency action plan.
"(Emergency crews) had already choreographed where the residents and employees would go," Lee said. "So that happened very quickly with the help of school buses."
Two train cars carrying carbon dioxide also derailed in the eastern part of Brandon, city officials said. The mayor said a Kansas City Southern train derailed around 1:45 p.m. Wednesday when the ground gave way and two train cars, full of carbon dioxide, detached from the train and rolled into a 20-foot ditch next to the train tracks.
Lee said crews are assessing the damage. The tracks are expected to be cleared in the next 24 to 36 hours.
Extremely heavy rainfall across parts of central Mississippi Wednesday prompted the National Weather Service to issue a "flash flood emergency" — the highest designation for a flood warning — for the city of Jackson, as well as communities just east of the city, including Morton and Forest. Brandon is about 13 miles east of the capital.
"This is a particularly dangerous situation," the National Weather Service in Jackson warned, adding "flash flooding is already occurring." Parts of I-20 near Morton have already been closed due to flooding, according to Mississippi Department of Transportation reports relayed to the weather service.
Between 6 and 12 inches of rain has already fallen, the weather service's warning Wednesday said, with between 2 and 4 more inches possible. 
This was the wettest August day Jackson has ever experienced, Taylor Ward, a CNN meteorologist, said, breaking the record of 4.04 inches, which fell during Hurricane Andrew on August 26, 1992.
Rain leads to high-water rescues across Mississippi
These excessive rains moved east into Louisiana and Mississippi on Tuesday, delivering 3 to 5 inches of rain or more across a widespread area.
But the worst isn't over, and meteorologists there said that the flood threat for the region will continue through the evening, and widespread flash flooding is likely.
"Area soils are saturated, with streams and bayous running high from the last several days of rain," the National Weather Service in Jackson said.
Heavy early morning rain lead to a dozen high-water rescues in the Mississippi city of Pearl, according to city spokesperson Greg Flynn.
"For a good two, three hours the city was under water, pretty much," Flynn said. The region had two days of steady rain prior to this morning.
The overnight forecast was for up to 6 inches of rain, but they got more, according to Flynn.
"It got so bad the roundabout to the Jackson Airport flooded and that never happens," he said.
Flynn said the roads in the city were passable by afternoon. While there were some businesses and homes flooded, Flynn says none of the damage in the city is catastrophic.
In Florence, more than 100 children and 15 workers had to be rescued from the Railroad Center Daycare Wednesday due to high water from flooding, Paul Holley with the Rankin County Sheriff's Office told CNN. No injuries were reported, Holley said.
Excessive rain expected to move into Alabama
Flood advisories are in effect through late Wednesday from Texas to Alabama.
A slight risk — level 2 of 4 — stretches from western Alabama through much of the Texas Coast. Any place in these risk areas has the potential to receive 3 to 6 inches of rain or more on Wednesday.
The excessive rains are expected to spread into Alabama while lingering across Mississippi on Thursday.
"This system is forecast to gradually weaken over the next couple of days," the Weather Prediction Center said. "A slow tapering trend of the heavy rain is forecast by Friday but more scattered thunderstorms can be expected to develop along the Gulf Coast."
CNN's Jennifer Gray, Amanda Musa and Dave Alsup contributed to this report.