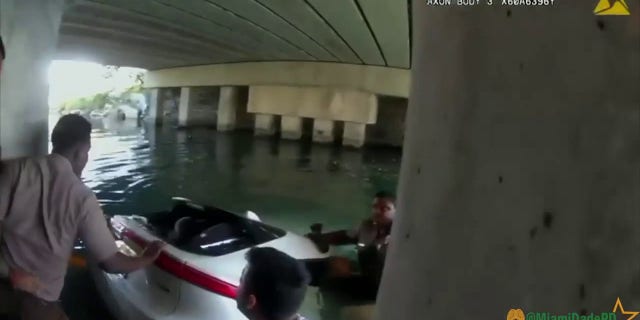 Dramatic video from the Miami-Dade Police Department in Florida shows officers tirelessly working to rescue a child who was trapped in a car seat inside a submerged car that was sinking into a canal.
On Feb. 27, Miami-Dade officers responded to a canal where a car had plunged in following a car crash. Despite "heroic efforts" the driver was unable to get his son out of his car seat despite help from good Samaritans.
"It was actually hard to see the car, because the car was stuck under the bridge," Sgt. Edward Webster said.
THREE TEENS ARRESTED IN SHOOTING THAT KILLED 2 TEENS OUTSIDE GEORGIA BIRTHDAY PARTY
In the suspenseful body camera footage, officers are seen rushing into the murky water.
"Somebody had to make the choice to get in, and I just acted," Officer Emmanuel Walton III said.
"Somebody had to make the choice to get in, and I just acted"

— Officer Emmanuel Walton III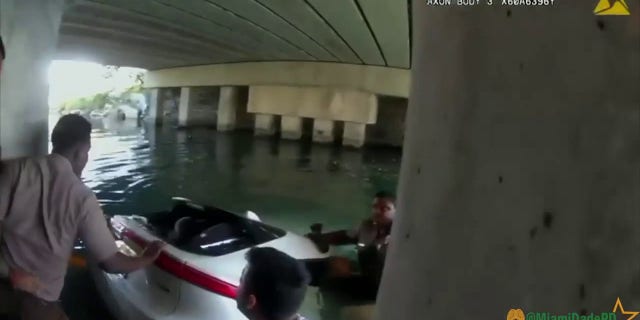 For a few tense seconds, Officer Walton unsuccessfully attempts to rescue the 3-year-old from the submerging car seat. 
"I couldn't see through the water, so I had to come back up a couple of times," Walton said. He said he had to use touch to eventually feel his way to the car seat. "I pulled it as hard as I could, because I couldn't figure out where the seatbelt was … luckily it broke off," he said.
MISSING MAN WAS LURED INTO BATHROOM FOR SEX, ENDED UP IN SHALLOW BACKYARD GRAVE: POLICE
The young boy was eventually pulled out of the car seat and passed to emergency crew members who immediately began CPR to resuscitate the toddler.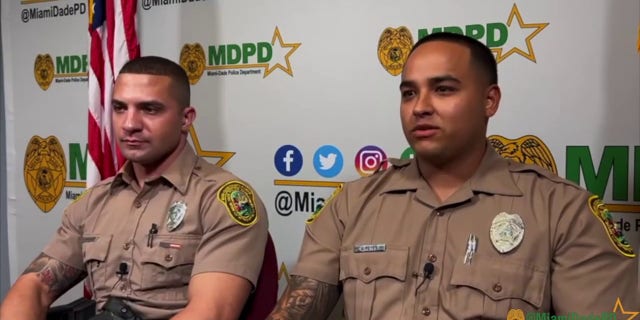 Once the child started breathing again, he was rushed to Baptist Health Homestead Hospital in Homestead, Florida.
CLICK HERE TO GET THE FOX NEWS APP
"When the baby started crying I started crying too, because it was the best cry I've ever heard in my life," Officer Walton said.
"When the baby started crying I started crying too, because it was the best cry I've ever heard in my life"