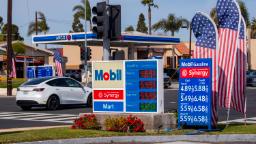 New York
CNN
 — 

Amazon, Uber and Lyft recently ended extra fuel surcharges as gas prices dropped late last year. But there's a catch.
Beginning last March, Uber riders were paying an extra $0.45 or $0.55 in fees per trip and an additional $0.35 or $0.45 for Uber Eats food delivery, depending on the location. Lyft riders were paying a $0.55 surcharge per ride.
Amazon in April also tacked on a $5 fuel and inflation surcharge on third-party merchants who sell on its website and utilize its fulfillment services, such as storing, packing and shipping.
These companies added gas surcharges in response to skyrocketing energy prices following Russia's invasion of Ukraine last year. Gas prices swung wildly in 2022: At one point the national average for a gallon of gas was above $5 for the first time ever, according to AAA. The spike set off recession alarm bells, worsened inflation and crushed consumer confidence.
But gas prices fell in the fall and, by the end of November, the national average for a gallon had dropped below the price of gas Americans were paying before Russia's invasion of Ukraine. Today, the average stands at $3.36 a gallon, according to AAA, down from $3.50 a month ago.
That decline led companies to end fuel surcharges, a move that has mixed benefits.
Fuel surcharges went directly to ride-share drivers and were meant to help them soften the blow of high gas prices.
Some drivers, who are independent contractors, had said they were still not enough to help them afford gas. Without them, drivers will have less of a cushion to pay for gas.
Uber ended the surcharge in January and said that it has rolled out other options to help drivers to save on gas, including a debit card in which drivers can get up to 10% cash back on gas. Lyft ended it in September and launched an expanded gas rewards program for drivers.
In January, Amazon removed the surcharge as a separate cost for businesses – but it raised its standard fulfillment rates to account for higher costs.
"These cost increases have not attenuated as quickly as we had hoped, so we will adjust our standard [fulfillment] fee rates to account for these increased costs," Amazon said in a note to sellers.
It's unlikely that gas prices will spike this year.
OPIS expects the average price throughout the course of 2023 to come in around $3.45 a gallon, down from $3.96 last year.