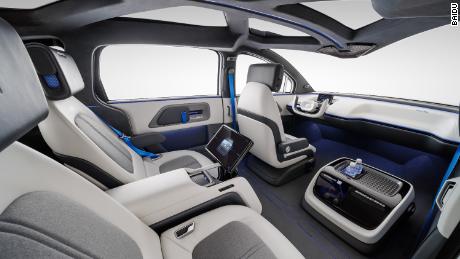 The Chinese tech giant, the country's answer to
Google
(GOOGL)
, revealed the Apollo RT6, its sixth-generation autonomous vehicle, at its annual flagship conference on Thursday.
Baidu's ride-hailing service, Apollo Go, currently operates in 10 Chinese cities. The new vehicle will roll out through that program sometime next year.
Once regulators give the green light, the Apollo RT6's detachable steering wheel will legally be able to come off, a company executive said Thursday.
Baidu is hawking its new design as a way to free up space for things like "extra seating, vending machines, desktops, or gaming consoles."
The company said its new self-driving car has dramatically lowered the production costs from previous versions, by about half. Those cost savings will be passed on to passengers as the company prepares to introduce the cars to its existing fleet of robotaxis around the country, according to CEO Robin Li.
"We are moving towards a future where taking a robotaxi will be half the cost of taking a taxi today," he said in a statement. "This massive cost reduction will enable us to deploy tens of thousands of [autonomous vehicles] across China."
Baidu said Thursday that its new model was ready for production, but did not disclose a manufacturing partner.