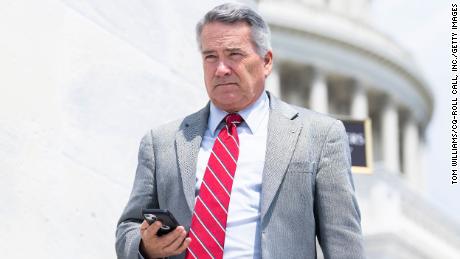 Jones is one of 16 fake Trump electors who signed on to the "unofficial electorate certificate" in a plan to subvert the Electoral College in the 2020 election.
Jones is currently running for lieutenant governor in Georgia against Democrat Charlie Bailey. Willis hosted a campaign fundraiser for Bailey last month and donated to his primary campaign earlier this year.
In his ruling, Fulton County Superior Court Judge Robert McBurney said Willis' office may "ask witnesses about the Senator's role in the various efforts the State Republican party undertook to call into question the legitimacy of the results of the election. What her office may not do is make sure of any such evidence to develop a case against the Senator."
The Prosecuting Attorney's Council of Georgia can select a replacement district attorney's office that can question Jones, according to Georgia law.
Peter Skandalakis, executive director of the Prosecuting Attorneys' Council of Georgia, said in a statement that as of Monday, "no decision has been made as to whether or not an appointment will be made. Staff and I are reviewing the Court's decision and researching case law."
Willis' spokesperson, Jeff DiSantis, told CNN that they "are reviewing the order and considering the course of action."
Jones' spokesperson did not immediately respond to requests for comment.
Counsel for Willis had said in court filings that her political support for Bailey's campaign provides no basis for disqualification nor amounts to a conflict of interest in overseeing the grand jury. Last week, Willis' attorney stressed that the district attorney's political actions were well within the law.
US District Judge Leigh Martin May, an appointee of former President Barack Obama, told attorneys at a hearing that she will remand the case back to the Superior Court of Fulton County for Hice to raise any objections to specific questions posed by the special purpose grand jury.
CORRECTION: A previous version of this story misstated steps the Prosecuting Attorney's Council of Georgia has taken following the ruling. It is reviewing the court's decision.
CNN's Chandelis Duster contributed to this report.