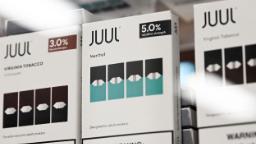 The investigation found that Juul deliberately marketed its products to young people, even though e-cigarette sales to children are illegal.
Marketing efforts included free samples, social media campaigns, launch parties, and the use of young-looking models in its advertising campaigns, according to the office of
Texas Attorney General Ken Paxton
. The packaging was easy to hide and the flavors such as mango, fruit and mint were popular among underage users.
Juul was by far one of the most popular nicotine products used by kids and teens,
studies show
.
The current settlement will limit Juul's sales and marketing abilities, including restrictions on marketing to people under age 35, limits on in-store displays, online and retail sales limits, and a retail compliance check protocol.
Juul said that the settlement is "a significant part of our ongoing commitment to resolve issues from the past," according to an emailed statement the company sent CNN Tuesday.
"We remain focused on the future as we work to fulfill our mission to transition adult smokers away from cigarettes – the number one cause of preventable death – while combating underage use," the statement said.
In 2019, the US Food and Drug Administration chastised the company for its marketing, which included a presentation to kids while they were at school in which company representatives said the product was
"totally safe."
Juul had previously stopped selling the majority of flavors and had removed its social media accounts.
Then in June, the FDA ordered Juul to stop selling its products. A court blocked the FDA ban, so the products are still for sale in the United States.
"We believe that once the FDA does a complete review of all of the science and evidence presented, as required by law, and without political interference, we should receive marketing authorization. As we go through the FDA's administrative appeals process, we continue to offer our products to adult smokers throughout the U.S.," Juul said in a
statement
on Tuesday.
The $438.5 million settlement will be paid out over a period of six to ten years. The states and territories involved in the settlement include: Alabama, Arkansas, Connecticut, Delaware, Georgia, Hawaii, Idaho, Indiana, Kansas, Kentucky, Maryland, Maine, Mississippi, Montana, North Dakota, Nebraska, New Hampshire, New Jersey, Nevada, Ohio, Oklahoma, Oregon, Puerto Rico, Rhode Island, South Carolina, South Dakota, Tennessee, Utah, Virginia, Vermont, Wisconsin, and Wyoming.