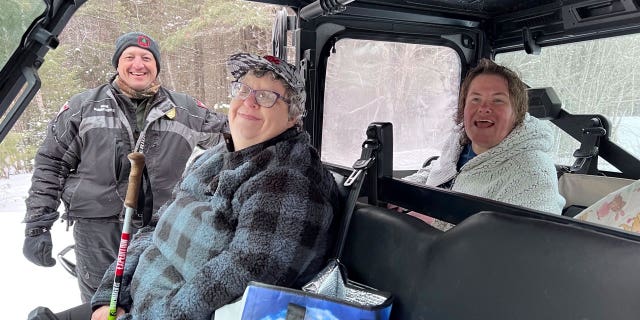 Game wardens located two Maine women on a remote backroad in rural Maine, in a car that was out of gas in subzero temperatures, after a planned trip to the mall took them hundreds of miles from home.
Authorities located Kimberly Pushard, 51, and Angela Bussell, 50, both of Topsham, on Sunday, four days after they were last seen. The two women have intellectual disabilities and became lost, police said.
MAINE FAMILY MISSING SINCE JUNE FOUND SAFE, 'NO EVIDENCE OF CRIMINAL BEHAVIOR,' POLICE SAY
Pushard's mother, Patsy Pushard, said Kimberly knows her way around the towns surrounding Topsham, but must have become disoriented when the pair got far from home when they attempted to go to a mall. The women were located on an unplowed road near Nicatous Lake, more than 150 miles from Topsham, after driving to Massachusetts and New Hampshire, trying to find their way home, police said.
The two women were transported to a hospital for medical evaluation, where they remained on Tuesday, Patsy Pushard said. She said the women were recovering well and that she's excited to be reunited with her daughter after the dayslong search.
"I can't wait to have my baby back," Patsy Pushard said.
The two women had last been seen at a gas station in Springfield, Maine, more than 170 mile from home, on Feb. 22. The previous evening, police in New Hampshire had attempted to give them directions to return home.
MAINE WOMAN REPORTED MISSING WHILE VISITING NEW YORK CITY IS SAFE
The Maine Warden Service and Maine Forest Service assisted in the search for the women after video footage captured them driving in the area of Enfield on Feb. 22, police said. The search included a helicopter, aircraft, trucks and snowmobiles.
A game warden located the women while searching rural areas south and east of Enfield. Their vehicle was stuck, and they had spent the night inside of it with no heat in temperatures of about negative 15 degrees Fahrenheit, the warden service said.
CLICK HERE TO GET THE FOX NEWS APP
"At approximately 4 p.m., game warden Brad Richard, traveling by snowmobile, located the two women alive in their vehicle on an unplowed road," the warden service said.