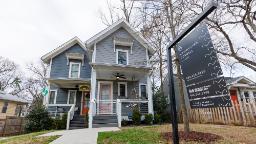 Washington, DC
CNN
 — 

Applications for a mortgage fell for the third week in a row and now sit at a 28-year low for the second-straight week, according to data released Wednesday.
With mortgage rates half a percentage point higher over the past month, home buyers are pulling back even as the spring home buying season should be heating up.
Mortgage applications were down 5.7% for the week ending February 24 from the week prior as rates trended higher, according to the Mortgage Bankers Association. Mortgage applications for the purchase of a home were down 44% from a year ago and refinances are more than 70% down from last year, as a majority of homeowners have already locked in rates lower than those currently available.
"After a brief revival in application activity in January when mortgage rates dropped down, there has now been three straight weeks of declines in applications as mortgage rates have jumped 50 basis points over the past month," said Joel Kan, MBA's vice president and deputy chief economist.
Rates had been trending downward after hitting 7.08% in November, causing a boost in activity in January.
But rates are now climbing again. The average mortgage rate for a 30-year, fixed-rate loan last week was 6.5%. A year ago it was 3.89%.
A recent slew of robust economic data suggests the Federal Reserve is not done in its battle to cool the US economy and will likely continue hiking its benchmark lending rate.
"Data on inflation, employment, and economic activity have signaled that inflation may not be cooling as quickly as anticipated, which continues to put upward pressure on rates," said Kan.
The Fed does not set the interest rates that borrowers pay on mortgages directly, but its actions influence them. Mortgage rates tend to track the yield on 10-year US Treasury bonds, which move based on a combination of anticipation about the Fed's actions, what the Fed actually does and investors' reactions.