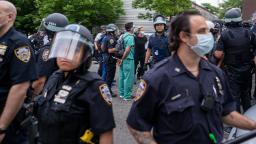 CNN
 — 

New York City has agreed to pay at least $21,500 to each of the hundreds of demonstrators at a 2020 George Floyd protest in the Bronx who were "arrested, detained, and/or subjected to force by police officers," according to a proposed settlement filed in federal court.
The settlement, if approved, could result in the city paying out millions to approximately 320 people who were involved in demonstrations on June 4 in the Mott Haven section of the Bronx, according to an unopposed motion in the class action lawsuit filed Tuesday.
The demonstrations in New York were among many that erupted nationwide in the wake of George Floyd's death in police custody in Minneapolis. The New York Police Department came under heavy criticism for its treatment of protesters.
The police department's policy and training for policing large-scale demonstrations have been revamped in the aftermath of the protests following Floyd's death and a subsequent review of police actions during that time, the department said in a statement.
The protests were a "challenging moment" for police as officers themselves "were suffering under the strains of a global pandemic did their utmost to help facilitate people's rights to peaceful expression all while addressing acts of lawlessness including wide-scale rioting, mass chaos, violence, and destruction," the statement said
Defendants including the City of New York and former Mayor Bill de Blasio, among others, do not admit fault or liability as part of the proposed settlement agreement.
The defendants "deny any and all liability and deny that they had or have a policy, or engaged in or currently engage in a pattern or practice, that deprived persons of their rights, privileges, or immunities secured or protected by the Constitution and laws of the United States and the State of New York," the proposed agreement says.
The motion seeks court approval.
CNN is reviewing the legal document and has reached out to Mayor Eric Adams for comment.