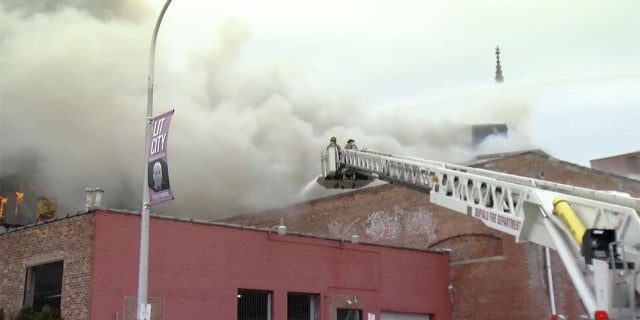 A firefighter in New York is dead following a partial building collapse in Downtown Buffalo where firefighters were battling a large blaze, Fox News Digital has confirmed. 
"I am deeply saddened to report that a member of the Buffalo Fire Department has lost his life while bravely fighting the four-alarm fire on Main Street in Downtown Buffalo today." Buffalo Mayor Byron Brown shared on social media Wednesday afternoon. "I ask everyone to keep the family and fellow firefighters in your prayers."
DETROIT FAMILY DOG SAVES TODDLER IN FIRE, MOM SAYS: 'HE WENT RUNNING BACK INTO THE HOUSE'
The firefighter's identity was not immediately released.
Earlier, Buffalo Fire Commissioner William Renaldo shared in a press conference that firefighters responded to the fire in the downtown commercial district in Buffalo, New York at approximately 10 a.m. Wednesday, March 1.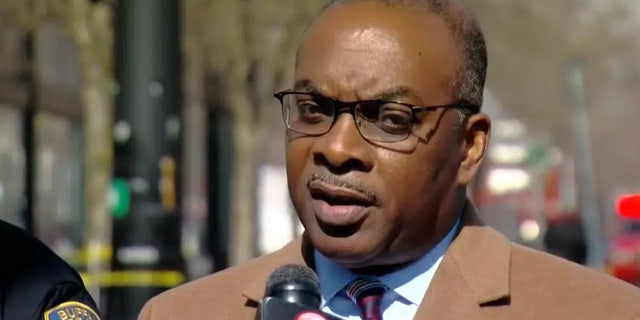 "Quickly thereafter there was a mayday call," Renaldo said. "There was a structural collapse, an interior collapse. Firefighters had to evacuate. And unfortunately one of our firefighters was trapped and is still trapped, and we're still trying to make our way to that firefighter as we speak."
BODYCAM FOOTAGE SHOWS NJ HOUSE EXPLOSION WHILE FIREFIGHTERS STILL INSIDE
Video from a bystander shows an enormous blaze in downtown Buffalo with firefighters diligently spraying the building with hoses until a massive explosion occurs, causing a huge plume of smoke and ash billow out. The teams of firefighters were seen outside the building being knocked over and enveloped in a cloud of ash, then flailing to regain control of spraying hoses.
Hours following the explosion, first responders worked tirelessly to find the missing firefighters, until he was pronounced dead on Wedensday afternoon.
The cause of the fire is under investigation. Renaldo said his department was investigating a report that workers had been seen with torches near the building, which was being renovated.
"I am heartbroken by this devastating tragedy in Buffalo." New York Governor Kathy Hochul shared on Twitter. "My prayers are with the loved ones of the brave fallen firefighter and the entire Buffalo Fire Department. I have spoken with Mayor Brown to offer any support that is needed."
CLICK HERE TO GET THE FOX NEWS APP
The Associated Press contributed to this report.