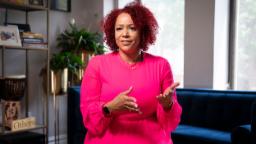 At the time, Nikole Hannah-Jones had been chosen as the Knight Chair in Race and Investigative Journalism at UNC,
the university announced
.
Despite the recommendation by the tenure committee, her tenure was initially denied by the UNC board of trustees. After protests from alumni, faculty and students, the board changed its decision and offered tenure.
Hannah-Jones rejected the offer from her alma mater, and she accepted a tenured position as the Knight Chair in Race and Journalism at Howard University — a historically Black university based in Washington, DC.
In a statement Friday,
Legal Defense Fund
(LDF) President and Director-Counsel Janai S. Nelson told CNN in an email, "Ms. Hannah-Jones is grateful to have this matter behind her, and she looks forward to continuing her professional work committed to using the power of investigative journalism to expose the truth about the manifestations of racism in our society and training the next generation of aspiring journalists to do the same at her academic home of Howard University."
"We believe this settlement will help support the ongoing work towards addressing racial inequity at the university," Nelson added.
The University of North Carolina confirmed the settlement to CNN.
"The steps taken to resolve the lingering potential legal action posed by Ms. Hannah-Jones will hopefully help to close this chapter and give the University the space to focus on moving forward," David Boliek, UNC-Chapel Hill Board of Trustees chair, said.
Associate Vice Chancellor of University Communications Beth Keith called the settlement "an important step forward as Carolina focuses on its future and continues to educate the next generation of leaders."
"As a part of the agreement, the university will accelerate its investment in crucial initiatives in Carolina Next, its strategic plan, to further that ongoing work," Keith added.