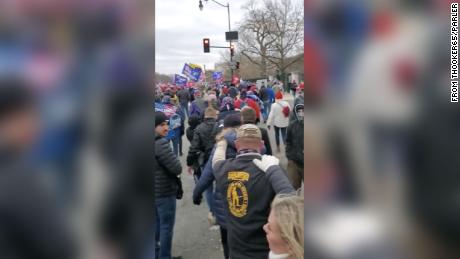 Courtney Holland, a Nevada-based political activist who does not appear to have entered the Capitol building herself and has not been charged with crimes related to January 6, was named Adam Laxalt's top spokeswoman in early July. Laxalt is running against Democratic Sen. Catherine Cortez Masto and the race is considered a toss up.
Holland traveled to Washington, DC, for the January 6, 2021, "Stop the Steal" rally where she was listed as a speaker for a
rally to be held
near the Capitol following then-President Donald Trump's speech near the White House. That second rally did not take place as scheduled. She had
previously spoken
at a November event in Washington, DC, and was photographed with several "Stop the Steal" organizers who also spoke. The "Stop the Steal" movement believes Trump's lies that the 2020 election was stolen from him.
Early on the morning of January 6, Holland walked with a group to the main rally, which featured Trump, according to a video in a
since-deleted tweet
on her account archived on the Internet Wayback Machine. The group included
three other speakers
listed for the rally near the Capitol.
Following
Trump's rally
, Holland was part of a group that now-included
four other scheduled speakers
for the second rally that made their way toward the Capitol guided by three Oath Keepers, according to videos and photos reviewed by CNN's KFile. Holland said in a statement to CNN on Tuesday that she did not know the men, describing them as "security." Two of those Oath Keepers, Kenneth Harrelson and Jason Dolan, have since been charged by the Department of Justice for their role in the Capitol attack. Also walking with Holland was Dr. Simone Gold, an anti-vaccine doctor who
pleaded guilty in March
to entering the Capitol and was recently sentenced to
60 days in jail
, and
John Strand
, a
co-defendant in her case
who has
pleaded not guilty
.
Holland told CNN in her Tuesday statement that she went to Washington expecting to attend a "peaceful gathering." She said she did not know the Oath Keepers who led her to the second "Stop the Steal" event that was supposed to take place near the Capitol. Holland said she has never been subpoenaed, questioned, or accused of wrongdoing and called the riot "an unfortunate day in our country's history."
"Like thousands of others I attended the event, with expectations of a peaceful gathering. Event organizers asked me and many others to speak at a permitted area behind the Capitol and provided us with what we were told was event security, who we did not know, to reach the area. Upon reaching the permitted area, I became aware that the situation was deteriorating and decided to leave the Capitol complex to return to my hotel. I intended to speak at a peaceful rally, similar to a previous event held in November. Once it became clear what was happening, I left," Holland said.
Guided by far-right militia members
The FBI explained the Oath Keepers' use of stack formations in a criminal complaint against Harrelson, which does not reference Holland or her group's walk to the Capitol. "One defining feature of this formation is that members keep their hands on the backs or vests of the person in front of them to remain together while entering a room or weaving through a crowd," they wrote in the complaint, which includes a photo of a different group of Oath Keepers marching in that formation outside of the Capitol building. "The purpose of maintaining direct physical contact with one another is to efficiently communicate with one another, especially in crowded or noisy areas."
Holland's exact movements after getting to the Capitol are unclear.
Following the riot and aftermath, Holland said in since-deleted tweets she would still stand up for Trump.