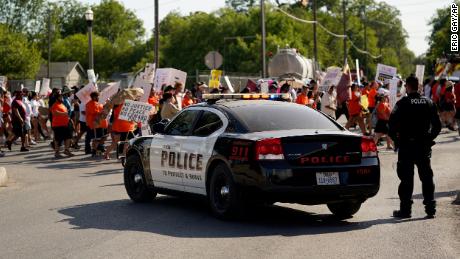 The board initially was set to consider Arredondo's job status
on July 23
, but the matter was twice
postponed
at the
request
of Arredondo's attorney and eventually
moved
to Wednesday
.
Arredondo has come under intense public scrutiny over the police response to the
May 24 massacre
, America's deadliest school shooting since 2012.
The attacker remained in two adjoined classrooms for more than an hour before officers entered the rooms and killed him,
authorities say
. The delay contradicted
widely taught protocol
for active shooter situations that call for police to immediately stop the threat and came even as children inside repeatedly called 911 and begged for help.
The Uvalde schools superintendent has
recommended
that Arredondo, who is on unpaid administrative leave, be fired. State officials identified Arredondo as the on-scene police commander, though he has said he did not consider himself in charge.
Wednesday's meeting is scheduled to start at 5:30 p.m. CT. The board is scheduled to hear public comment before going into a closed session to consult with the district's attorney and hold a hearing on whether to fire Arredondo for good cause, an agenda for the meeting reads.
The board would then return to open session for "discussion and possible action," the agenda reads.
Report described 'lackadaisical approach' by law enforcement
The 77-page report described "an overall lackadaisical approach" by the 376 local, state and federal law enforcement officers who responded and were at the school.
"There is no one to whom we can attribute malice or ill motives," the report says. "Instead, we found systemic failures and egregious poor decision making."
The report also notes others could have assumed command. Advanced Law Enforcement Rapid Response Training "teaches that any law enforcement officer can assume command, that somebody must assume command, and that an incident commander can transfer responsibility as an incident develops," it says.
"That did not happen at Robb Elementary, and the lack of effective incident command is a major factor that caused other vital measures to be left undone," according to the report.
In the wake of sharp criticism, Uvalde school district Superintendent Hal Harrell placed Arredondo — who has been the school district police chief since March 2020 — on leave from his position as school police chief on June 22.
'Too little, too late'
At a meeting Monday night, the school board met to review parents' complaints calling for the superintendent's removal. The board passed a motion that, in part, requires the superintendent to provide to the board names or organizations that could review the district's administrative practices about accountability.
"Come out Wednesday," Cross said as he and others left Monday's meeting. "I'm f**king tired of this bulls**t."
CNN's Eric Levenson, Rosa Flores, Matthew J. Friedman, Christina Maxouris, Shimon Prokupecz and Rebekah Riess contributed to this report.