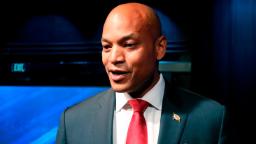 Moore, a Rhodes scholar and former White House fellow, first became famous for his 2010 bestselling memoir, "The Other Wes Moore," an inspirational story of two boys with the same name and ties to the rough streets of Baltimore.
He will face Republican state Del. Dan Cox, an election denier who has taken a series of hard-line conservative positions, in the race for what will be one of the most difficult governor's offices for the GOP to hold in November's midterms.
Cox on Tuesday won the GOP primary nomination to replace term-limited Republican Gov. Larry Hogan — an outcome that showcased Republican voters' willingness to scrap what had been a winning formula in the deep-blue state after Hogan angered his own party with his criticism of Trump and his public safety measures amid the coronavirus pandemic. Hogan had backed Kelly Schulz in that primary, while Trump had endorsed Cox.