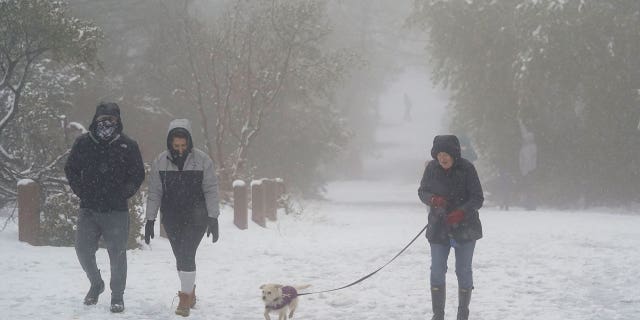 Jennifer Cobb and her husband planned on staying four days in their vacation rental in Southern California's San Bernardino Mountains. But that stretched into a week as they were trapped by a relentless series of storms that has piled snow so high they can barely see out the windows.
When they try to shovel themselves out, it just snows again. They're thinking of walking to a main road to see if they can hitch a ride down the mountain so they can get home to their teenage daughter and Cobb's elderly father in San Diego County.
"We hear the phantom sounds of plows, but they never come," she said. "Being stuck up here in this beautiful place shouldn't be awful, but it is."
SNOW ACCUMULATES IN NYC FOLLOWING NORTHEAST STORM
Cobb and other beleaguered Californians weathered yet another storm Tuesday, as blizzard warnings blanketed the Sierra Nevada range in the northern half of the state, more snow was on its way to the southern mountains like the San Bernardino range, and forecasters warned that any travel was dangerous.
On the eastern flank of the Sierra, the Mono County Sheriff's Office bluntly tweeted: "The roads are closed. All of them. There is no alternate route, back way, or secret route. It's a blizzard, people."
San Bernardino County has declared a state of emergency, with mountain residents trapped in their homes and motorists stranded. More snow was expected in many communities where residents, unable to drive through deep snow on roads that were closed anyway, largely got around on foot.
The latest storm in California was one of two bookending the country, with snow closing or delaying the opening for hundreds of schools in the Northeast, which saw the most significant snowfall Tuesday of what has been a mild winter.
And Michigan again fought a battle with ice after a storm Monday left thousands of customers without power in the central part of the state. To the southeast, around Detroit, some customers still lacked power for a sixth day after a prior storm.
The storms have delayed travel, shuttered schools and overwhelmed crews trying to dig out of the snow and repair downed power lines. Nationwide, there were about 500 commercial flight cancellations and more than 2,000 delays on Tuesday, according to FlightAware.com.
In the West, the weather was expected to last into Wednesday, with winter storm warnings stretching from the Oregon coast to many of Southern California's already-snow-laden mountains.
In the San Bernardino mountain community of Running Springs, the town is covered in snow with some mounds piling more than six feet (1.8 meters) high. Some residents walked to a grocery store to stock up on food and carried back the bags atop a plastic sled.
In nearby Crestline, Michael Johnstone said his family's grocery store was running low on key inventory even though they stocked up before the storm. Authorities are escorting two full grocery trucks up to the mountain community, Johnstone said — just in time for the new storm to add as much as a foot of snow.
"We're completely out of bread. Milk is getting really light. We're almost completely out of produce," said Johnstone, of Goodwin and Sons Market. "Beer — domestic beer — is really, really low."
With 5 feet of snow on the ground, Johnstone said many of the store's employees can't make it to work, so he has been using a plow truck to shuttle them to and from work for limited hours. Most customers are coming in on foot.
For California's skiiers and snowboarders, the parade of storms was too much of a good thing. Most resorts around Lake Tahoe suspended operations Tuesday. Big Bear Mountain Resort opened, but all roads leading there remained closed. Mount Baldy Resort on the massive peak that looms over greater Los Angeles opened but also anticipated an early closure.
WINTER WEATHER POUNDS SIERRA NEVADA, DUMPS RAIN AND SNOW ACROSS NORTHERN CALIFORNIA
But California's Sierra snowpack, which provides about a third of the state's water supply, continued to benefit from the back-to-back dumps of heavy snowfall. The water content of the snowpack Tuesday — in a state grappling with years of drought — was 186% of normal to date and 162% of the average on April 1, when it is historically at its peak, according to the state Department of Water Resources' online data.
In the Northeast, parts of Connecticut, New York, Massachusetts, New Jersey and Rhode Island had heavy snow forecast through Tuesday afternoon. Some areas of western Massachusetts and northern Connecticut were left with about 7 inches of snow. Two to 5 inches of snow fell across New York City, depending on the borough. The Albany, New York, area saw less snow than expected — 2 to 5 inches — but enough to close schools.
Harry Craven, the owner of Highland True Value Hardware and Bike Shop in Holyoke, Massachusetts, said there hasn't been much snow this winter and in the past couple of days residents have come in seeking ice melt and shovels. Deke Andrew, a Maine snowboarder, said he couldn't imagine such a thing as too much snow. The 51-year-old is living out of his Sprinter-style van at Sugarloaf, and was out snowboarding as snow was falling Tuesday.
CLICK HERE TO GET THE FOX NEWS APP
"There really isn't any such a thing as too much snow in the wintertime," Andrew said. "We want as much as we can possibly get. It's incredible, and gives a purpose to the cold weather."