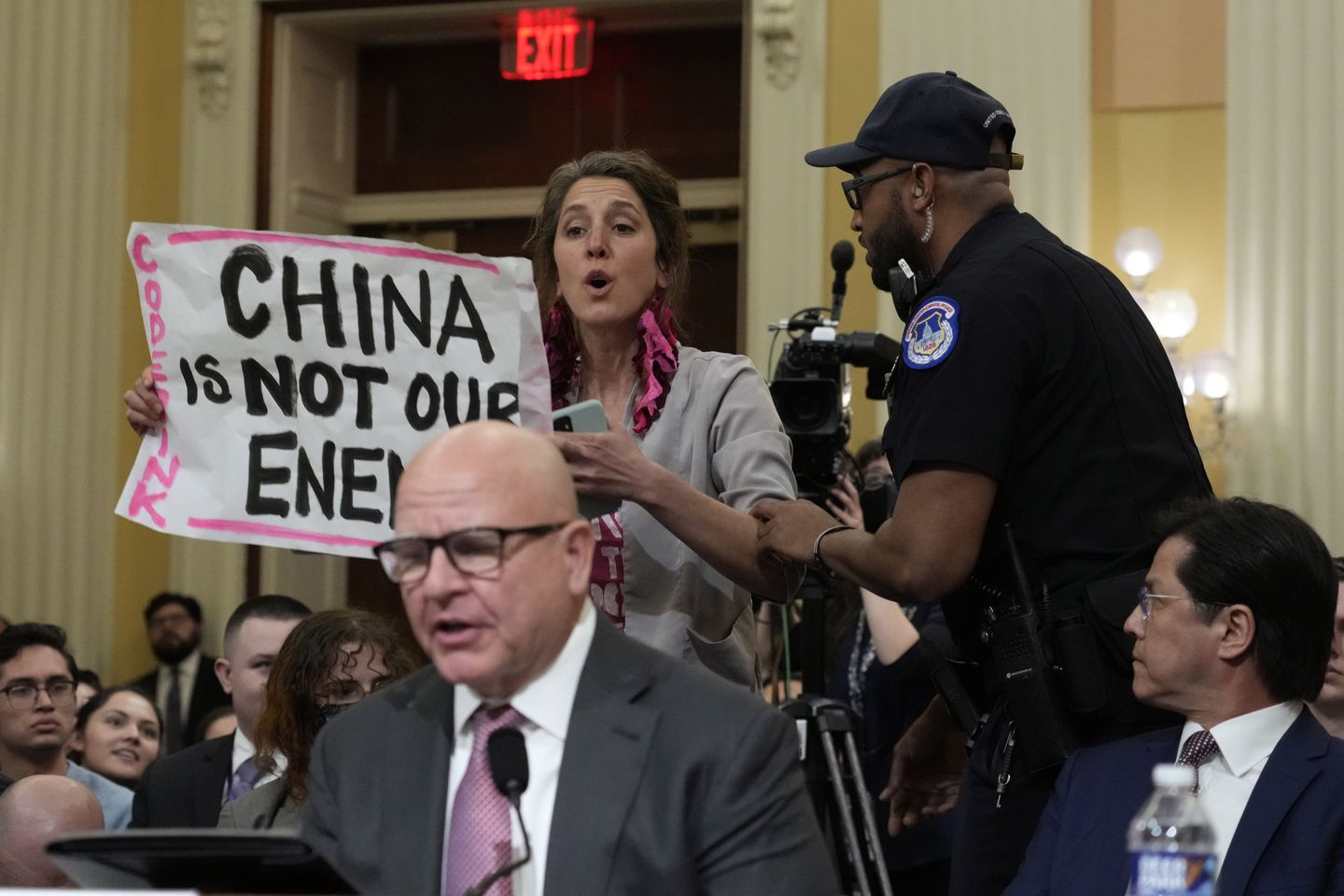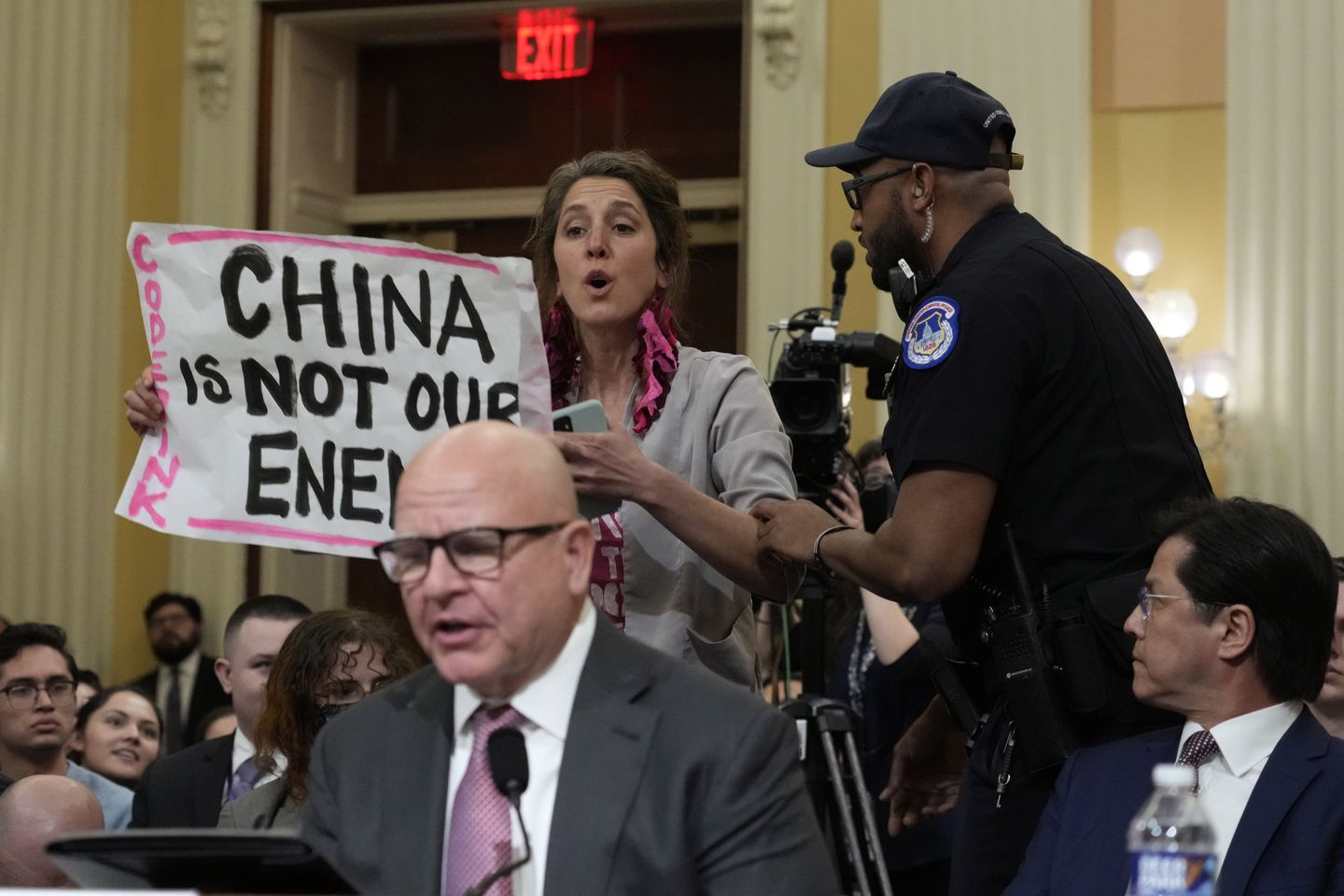 Two Code Pink activists attempted to disrupt the inaugural hearing of a House select committee on the Chinese Communist Party and were escorted out by security officials.
During testimony by former White House National Security Adviser H.R. McMaster, a woman from the pro-China leftist group held up a sign stating, "China is not our enemy," and began shouting.
The protester was escorted out by a House police officer.
A short time later a man, also from Code Pink, held up a sign and began shouting at the committee members. He too was escorted out.
Code Pink stated on Twitter that it "just disrupted [China hawks] to call for an end to warmongering."
"Congress wants to talk about 'human rights' while they arrest dissidents for free speech," the group said in a tweet. "If they were worried about human rights, they'd close Guantanamo and stop backing an apartheid occupation in Palestine!"
The group also states on its website that it has launched a campaign called "China is not our enemy."
The group describes itself as a "feminist grassroots organization working to … end U.S. wars and militarism."
The group also has advocated against U.S. policies that have sought to identify the Chinese Communist Party as an adversary.
"For the first time in history, the Republican-lead [sic] new Congress created a select committee for competition with another country; China," Code Pink stated on its website. "Not only can this be seen by China as a hostile act, it fuels the growing hate towards Asians in the United States, the cost of which is the lives of Asian Americans."
Michael Rubin, a senior fellow at the American Enterprise Institute, has said Code Pink has amplified Chinese propaganda regarding repression of Muslim Uyghurs in western China.
"Code Pink is now at the forefront of apologia, if not outright genocide denial, with regard to China's persecution of Uyghur Muslims," Mr. Rubin stated in a recent opinion article in the Washington Examiner.
Rep. Mike Gallagher, Wisconsin Republican and the committee chairman, apologized to Mr. McMaster for the disrupter.
"I've experienced worse," the retired Army colonel said.
In opening remarks, Mr. Gallagher said the Chinese Communist Party (CCP) is seeking to divide Americans.
"The CCP has found friends on Wall Street, in Fortune 500 C-suites, and on K Street who are ready and willing to oppose efforts to push back," Mr. Gallagher said. "This strategy has worked well in the past, and the CCP is confident it will work again. Our task is to ensure that it does not."
Mr. Gallagher said the administration's focus on competition with China "but this is not a polite tennis match."
"This is an existential struggle over what life will look like in the 21st century — and the most fundamental freedoms are at stake," he said.
China, he said, is working to create a world of "techno-totalitarian surveillance states" where human rights are repressed under CCP control.
"We must act with a sense of urgency," he said. "Our policy over the next 10 years will set the stage for the next hundred. We cannot allow the CCP's tech-powered dystopia to prevail."